The Ascension 16th Century by Dosso Dossi Public Domain Bible Painting SD Cason Ca
Details:
The Ascension of Jesus is the Christian teaching that Christ physically departed from Earth by rising into Heaven, in the presence of eleven of his apostles. According to the New Testament narrative, the Ascension occurred on the fortieth day counting from the resurrection. In the Christian tradition, reflected in the major Christian creeds and confessional statements, God exalted Jesus after his death, raising him from the dead and taking him to Heaven, where Jesus took his seat at the right hand of God.
Dosso Dossi (died 1542) was an Italian Renaissance painter who belonged to the School of Ferrara, painting in a style mainly influenced by Venetian painting, in particular Giorgione and early Titian.
From 1514 to his death he was court artist to the Este Dukes of Ferrara and of Modena, whose small court valued its reputation as an artistic centre. He often worked with his younger brother Battista Dossi, who had worked under Raphael. He painted many mythological subjects and allegories with a rather dream-like atmosphere, and often striking disharmonies in color. His portraits also often show rather unusual poses or expressions for works originating in a court.
🙏🏽
This image is in the public domain.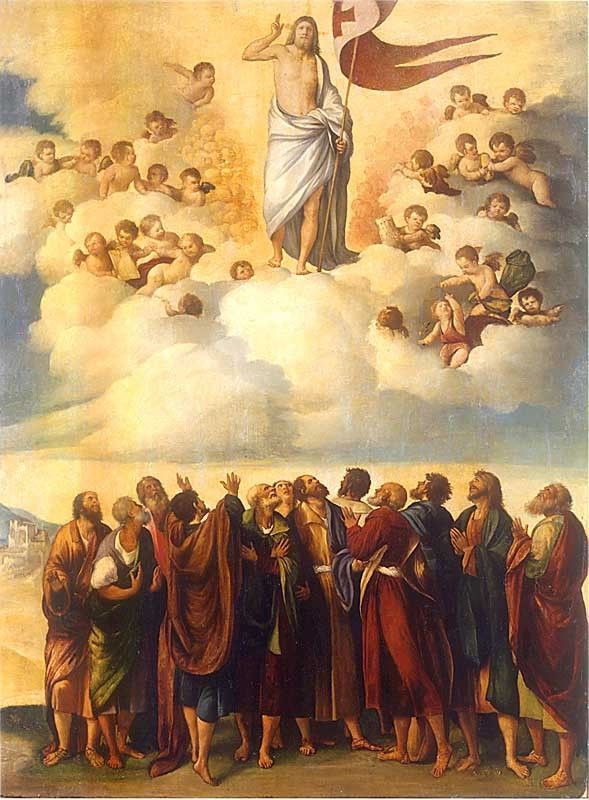 Please Subscribe or Donate to Help Keep This Site Free!