About the Image:
Guido Reni's Assumption of the Virgin is a renowned oil on canvas painting that was created in 1627. The original painting is located in the church of Santa Maria Assunta in Castelfranco Emilia, with additional versions in Lyon and the Alte Pinakothek in Munich. There are also treatments of the Immaculate Conception in San Biagio in Forlì and the Metropolitan Museum of Art in New York. Many documents exist about the work, including Antonio Masini's Bologna Perlustrata, which describes how the painting was commissioned by Doctor Christoforo Masini, Archpriest and Vicar of the Terra, and introduced with a solemn procession on 16 May. The Doctor was a knowledgeable art collector and had direct contact with one of the most sought-after masters in Europe. Despite Reni's already busy studio, he painted the work entirely himself.
About the Artist:
Guido Reni was an Italian painter of the Baroque period, born on November 4, 1575, in Bologna, Italy, and died on August 18, 1642, in the same city12. He was a prominent figure in the Bolognese School, which emerged under the influence of the Carracci1. Reni painted primarily religious works, but also mythological and allegorical subjects15. He is best known for his large-scale altarpieces, mythological scenes, and single-figure devotional and secular subjects3. Reni's themes are mostly biblical and mythological, and he painted few portraits1. Some of his noteworthy portraits include those of Sixtus V and of Cardinal Bernardino Spada, along with one of his mother and a few self-portraits1. Reni's works showed a classical manner, similar to Simon Vouet, Nicolas Poussin, and Philippe de Champaigne1. He was influenced by Annibale Carracci and was a major influence on Nicolas Poussin, Sassoferrato, and Juan Bautista Maíno2.
🙏🏽
This image is in the public domain.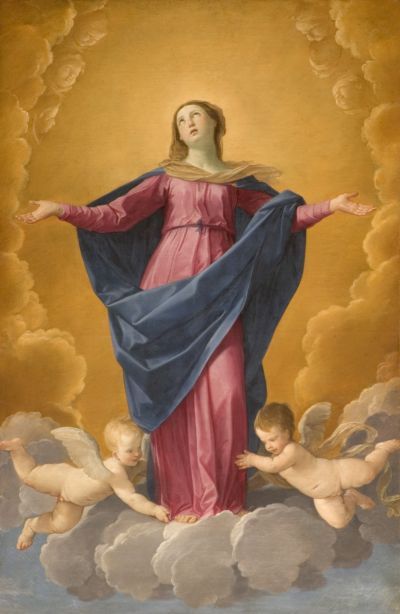 Please Subscribe or Donate to Help Keep This Site Free!