Santa Maria della Salute is a Roman Catholic church and minor basilica located at Punta della Dogana in the Dorsoduro sestiere of the city of Venice, Italy[1][2][3][4][5]. It was built to commemorate the end of a terrible outbreak of the plague that began in 1630 and killed a large portion of the Veneto population. The basilica was dedicated to Our Lady of Health (Salute in Italian) [3]. The architect, Baldassare Longhena, was commissioned to design the church, and it took 56 years to build, being completed in 1687[3].
The Basilica's interior is octagonal with small chapels on each side of the building. Although the church's decoration is quite plain, there are several impressive paintings by Titian and Tintoretto[3]. The most magnificent canvas is called "Marriage at Cana" by Tintoretto, which is located in the sacristy[3].
Every year on November 21, the Feast of the Presentation of the Virgin, known as the Festa della Madonna della Salute, the city's officials parade from San Marco to the Salute for a service in gratitude for deliverance from the plague is celebrated. This involved crossing the Grand Canal on a specially constructed pontoon bridge and is still a major event in Venice[3].
The Basilica di Santa Maria della Salute is open every day from 9:00 AM to 12:00 PM and from 3:00 PM to 5:30 PM[6]. If you plan to visit, it is recommended to book a tour ahead of time to secure your spot[6].
Citations:
[1] http://basilicasalutevenezia.it/la-basilica/
[2] https://en.wikipedia.org/wiki/Santa_Maria_della_Salute
[3] https://www.introducingvenice.com/santa-maria-della-salute
[4] https://www.lonelyplanet.com/italy/venice/sestiere-di-dorsoduro/attractions/basilica-di-santa-maria-della-salute/a/poi-sig/399961/1320996
[5] https://www.visitingvenice.net/attractions/basilica-di-santa-maria-della-salute-santa-maria-della-salute-church
[6] https://www.tripadvisor.com/Attraction_Review-g187870-d196474-Reviews-Basilica_di_Santa_Maria_della_Salute-Venice_Veneto.html
Konstantin Ivanovich Gorbatov was a Russian post-impressionist painter.
Gorbatov was born in Stavropol in the Samara province. He lived in Riga from 1896 to 1903, and studied civil engineering before painting. Gorbatov moved to St. Petersburg in 1904 and studied at the Baron Stieglitz Central School for Technical Draftsmanship. He initially entered the architecture department of the Imperial Academy of Arts before switching to painting that he studied under Nikolay Nikanorovich Dubovskoy. Gorbatov received a scholarship and studied art in Rome and Capri. He returned to St. Petersburg and participated in the Peredvizhniki exhibitions.
Gorbatov left Russia permanently in 1922 following the Russian Revolution of 1917 and settled on the Italian island of Capri. He moved to Berlin in 1926, where he remained until his death. Gorbatov became a member of a Russian emgiree artistic circle that included Leonid Pasternak, Vadim Falileyev, Ivan Myasoyedov. He became a well-known established artist. Gorbatov traveled throughout Europe during the late 1930s, visited Palestine and Syria in 1934 and 1935, and often came by Italy. Gorbatov's art became unneeded in the Nazi Germany and the family soon became impoverished. As a Russian émigré, he was forbidden to leave Germany during World War II. Gorbatov died shortly after the allied victory over Germany on 12 May 1945. His wife committed suicide on 17 June 1945.
Gorbatov bequeathed to the Academy of Arts in Leningrad. The works were delivered to the Moscow Regional Museum of history and Arts near the New Jerusalem Monastery, where they have since been exhibited.
1.Santa Maria Della Salute, Venice by Konstantin Ivanovich Gorbatov - Artvee. Artvee. Published 2023. Accessed July 6, 2023. https://artvee.com/dl/santa-maria-della-salute-venice-5/
🙏🏽
This image is in the public domain.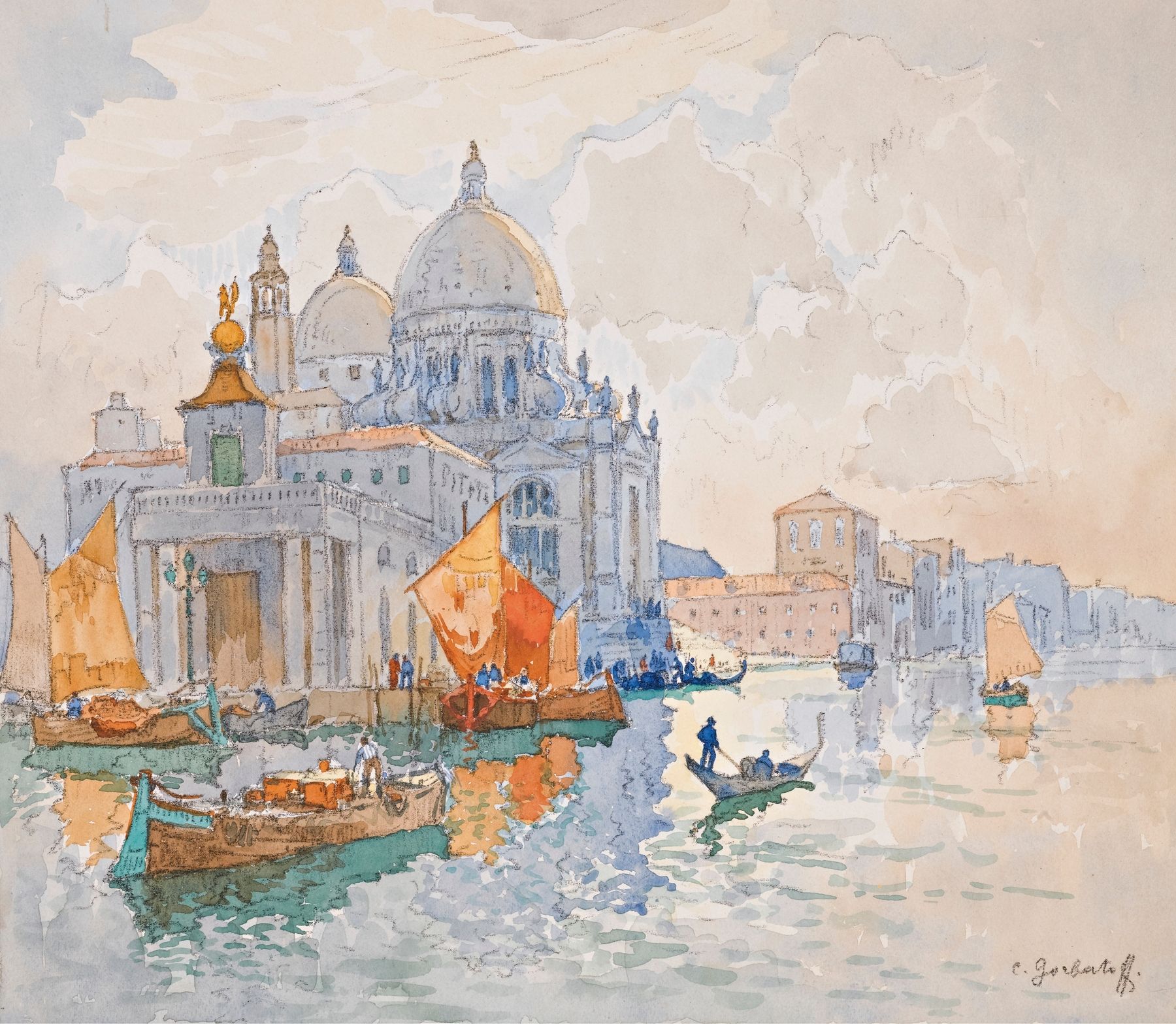 Please Subscribe or Donate to Help Keep This Site Free!