This panel, along with The Baptism of Christ and Madonna and Child with Five Angels were once part of the same altarpiece devoted to Saint John the Baptist. Several more components have found their way to other collections. The altarpiece's original location is not known, though it was probably featured in a church dedicated to the saint in what is today the northern Italian region Emilia-Romagna, close to Baronzio's home in Rimini. No documents pertaining to the altarpiece have ever been found. It must have been dismantled by the mid-19th century, when pieces of it began to appear on the art market. The dispersed parts have been linked to each other through various clues: similar dimensions, related subject matter, the artist's style, and particular details of technique and execution. One of those is the brocade pattern that has been incised into the gold background, which appears in all the panels. Another clue is the small punch used to impress a pattern in the gold of the halos.
Giovanni Baronzio (Italian, active c. 1320 - 1350) seems to have delighted in filling his works with activity and a wealth of everyday details. Here, he crowds three episodes from the life of John the Baptist into one busy scene. They unfold in an elaborate architectural setting with loggias and a flower box sprouting vegetation. At the left, John's mother, Elizabeth, rests while two women attend to the newborn baby. As was the custom in the Middle Ages and Renaissance, the infant is immobilized in swaddling clothes. Another figure, almost hidden, peers in from the doorway. Below this group, John's father, Zacharias, writes the baby's name on a scroll. At that moment he miraculously regained the power of speech, which had been taken from him as punishment for doubting an angel's announcement that he and Elizabeth, both elderly, would have a child. A witness to the naming looks to the right, leading our eyes to a third scene. There, the recalcitrant infant John stands above the circumciser's knife, which has drawn blood—a sign of the covenant between God and the people of Israel.
Free Downloads Below
This image is in the public domain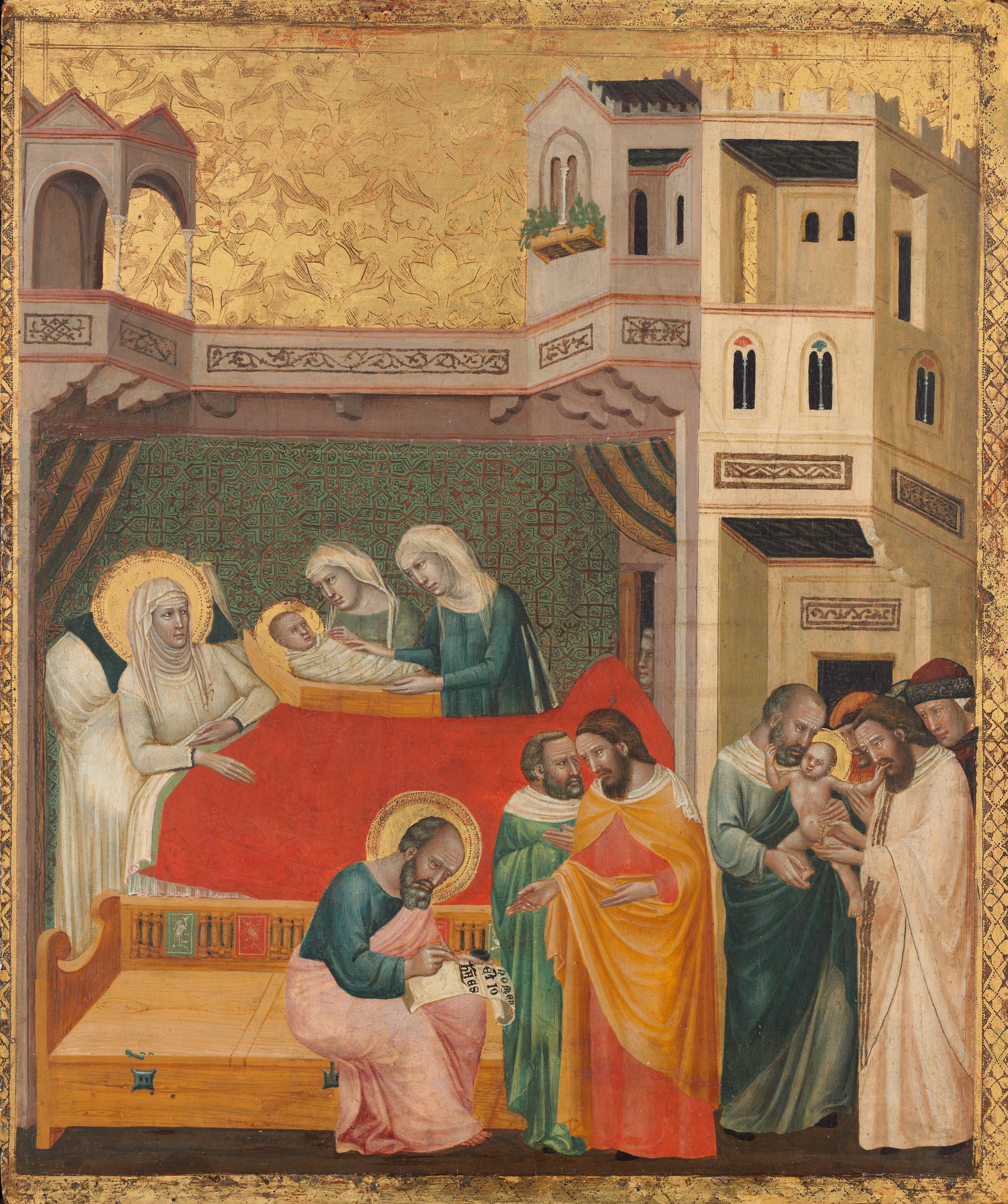 Please Subscribe or Donate to Help Keep This Site Free!