This image, which has always been a popular motif in Christian art, shows the Virgin Mary with the infant Jesus, John the Baptist on the left, and Saint Francis of Assisi on the right. The Virgin wears a bright red dress—likely representing the Holy Spirit or presence of God. She also wears a light blue veil and dark blue shawl—representing heavenly grace. She is bathed in light which emanates from her holy infant, Jesus Christ. The light falls off rapidly and barely reaches Saint Francis and John the Baptist on the outskirts of the image, hinting at the special favor and grace the Virgin receives compared to every other creature. Christ also holds a crimson read cross and wears a white swaddling blanket. White represents purity and red, in this instance, can represent the blood he will shed on the cross.
The shape of the composition of the Virgin and Christ is a triangle, a shape that usually represents the trinity. However, the overall composition has a radiating structure, surprisingly leading ones eyes to the face of the Virgin Mary and not to the infant Christ. On the other hand, all eyes in the image are looking at Christ.
In the details you can see Saint Francis lovingly looking upon Christ's face while he grasps the cross in his right hand, and a book in the other. He also shows the telltale sign of the stigmata in his left hand. John the Baptist also looks lovingly on the Child Christ while holding a cross with a ribbon that reads "Ecce Agnus Dei" which translates from Latin as: Behold the Lamb of God. The realism and perspective in the image is common for the renaissance era, which abandoned the abstract and symbolic approach of the Medieval/Byzantine era.
The text above is available under the
Creative Commons Attribution 4.0 International License
Vincenzo Rustici was an Italian painter active in Siena. He was known for his religious compositions as well as his vedute showing public celebrations in Siena.
Free Downloads Below
This image is in the public domain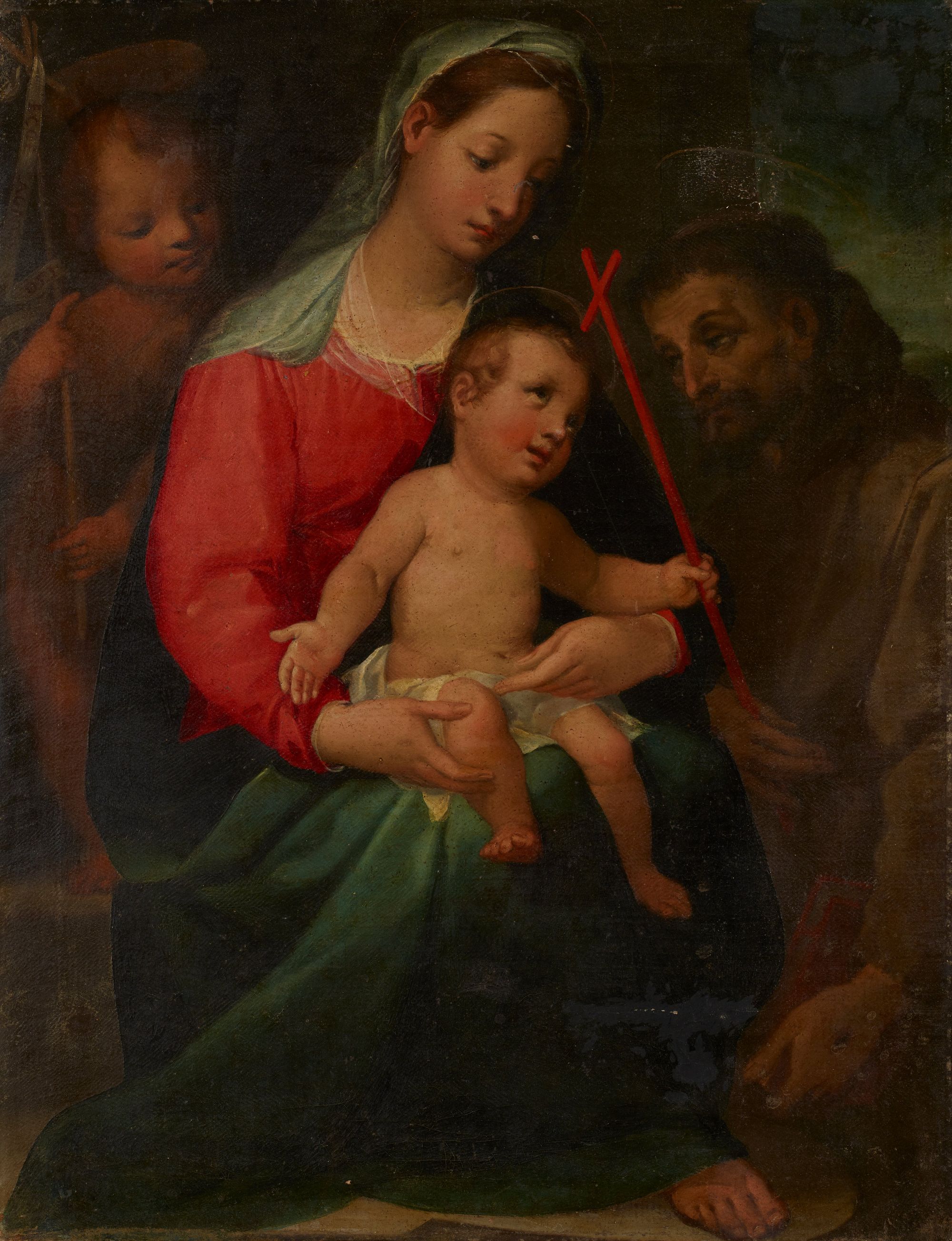 Please Subscribe or Donate to Help Keep This Site Free!