Details:
This type of icon is known as the Virgin Eleousa (Virgin of Tenderness) characterized by the touching cheeks of mother and child in a loving moment. The icon signifies Christ's incarnation, suffering, and death for the sake of humankind. Three ornamental stars on the Virgin's cloak are traditional symbols of her chastity; a blue cap covers her hair and protects her modesty. The child wears a pale green tunic and deep orange cloak, both highlighted in gold. The Christ child holds a scroll tied with a ribbon, a symbol of the Gospels. The icon was painted by the Cretan icon painter Akotantos, the preeminent artistic personality on Crete during the 1400s. This icon is from his period of greatest activity and pre-dates the collapse of Constantinople in 1453. The treatment of the faces and draperies is handled with fluency and skill and reveals Akotantos to be a painter of great talent. Given its large scale, the icon was intended for use within an orthodox church, possibly a monastery, and not for a private home.
🙏🏽
This image is in the public domain.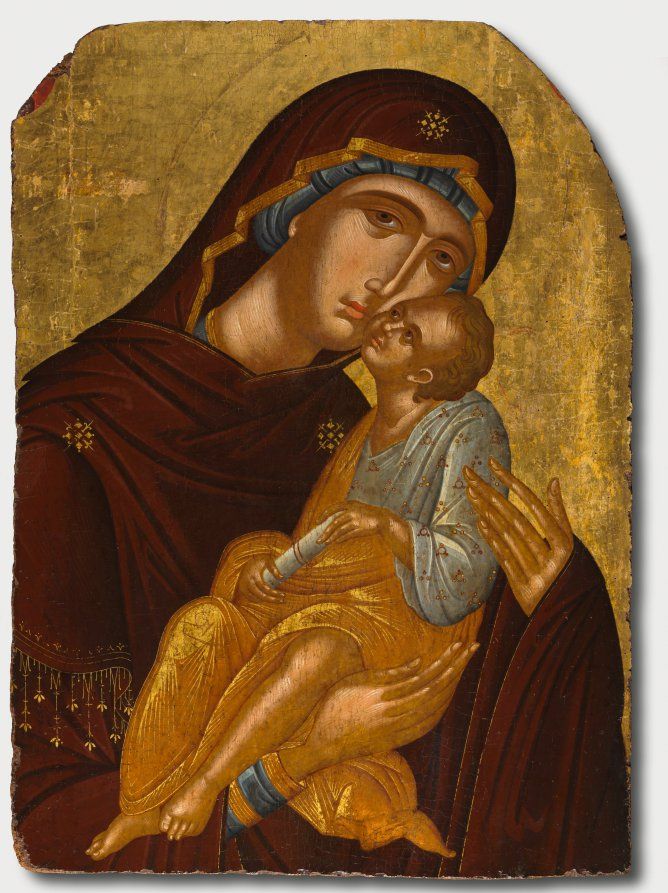 Please Subscribe or Donate to Help Keep This Site Free!