Details:
Belshazzar's Feast is a major painting by Rembrandt now in the National Gallery, London. The painting is Rembrandt's attempt to establish himself as a painter of large, baroque history paintings. The date of the painting is unknown, but most sources give a date between 1635 and 1638.
The story of Belshazzar and the writing on the wall originates in the Old Testament Book of Daniel. The Babylonian king Nebuchadnezzar looted the Temple in Jerusalem and has stolen the sacred artefacts such as golden cups. His son Belshazzar used these cups for a great feast where the hand of God appeared and wrote the inscription on the wall prophesying the downfall of Belshazzar's reign. The text on the wall says "mene, mene, tekel, upharsin". Biblical scholars interpret this to mean "God has numbered the days of your kingdom and brought it to an end; you have been weighed in the balances and found wanting; your kingdom is given to the Medes and Persians".
The inscription on the wall is an interesting element in this painting. Rembrandt lived in the Jewish Quarter of Amsterdam and "derived the form of Hebrew inscription from a book by his friend, the learned Rabbi and printer, Menasseh ben Israel, yet mistranscribed one of the characters and arranged them in columns, rather than right to left, as Hebrew is written." This last detail is essential as it relates to the question of why Belshazzar and his advisers were not able to decipher the inscription and had to send for Daniel to help them with it. The biblical story does not identify the language of the cryptic message, but it is generally assumed to be Aramaic, which, like Hebrew, is written in right-to-left rows, and not in right-to-left columns as in the painting.
🙏🏽
This image is in the public domain.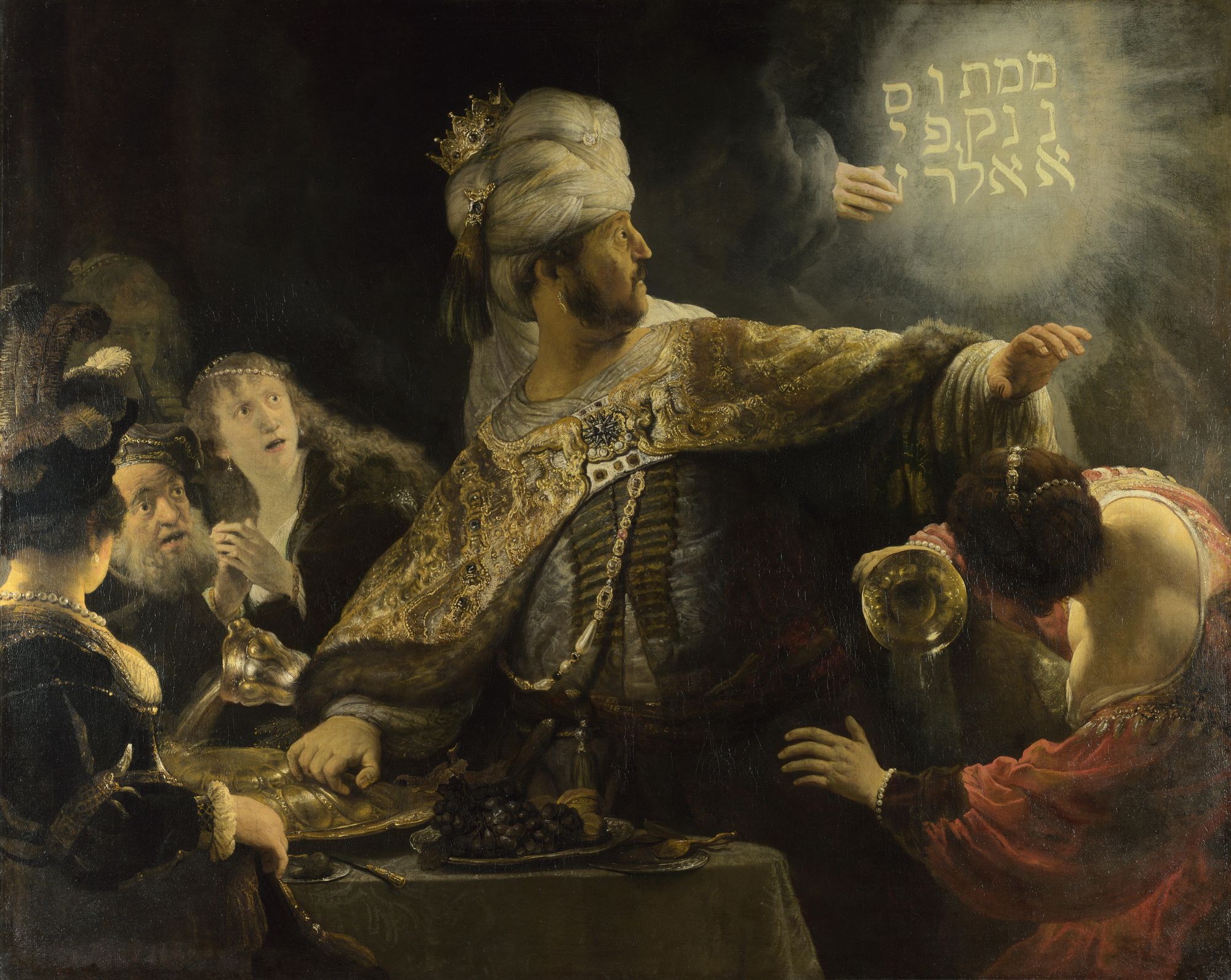 Please Subscribe or Donate to Help Keep This Site Free!