Details
The Adoration of the Magi by the Venetian artist Paolo Veronese is a large oil painting on canvas dated to 1573 which has been in the National Gallery, London since 1855, shortly after it was sold by the Venetian church for which it was commissioned. It shows the common subject in the Nativity art of the visit by the Three Kings to the infant Jesus, here given a grandly theatrical treatment typical of Veronese's mature works. It was not an altarpiece, having been painted to hang beside rather than over a side altar in the nave of the church.
The Adoration of the Magi was a very common subject in religious art. It was no doubt chosen for this painting because it was commissioned by a confraternity of Saint Joseph, although he is not especially prominent in the composition, placed hanging off a ledge above the ox. However he is at the top of the compositional diagonal formed by the main figures. Veronese enjoyed painting elaborate and stagey costumes and the three kings, like religious or historical figures in many of his paintings, are very elaborately dressed in robes that reflect the dress of the contemporary Venetian elite but are more extravagant and fanciful than would often actually be worn. It has been suggested that Veronese's costumes drew from theatre costumes, for which he also made drawings, and they might be likened to modern-day haute couture styles, many of which are not really intended to be worn off the catwalk.
The grand architectural setting in a ruined classical temple is also typical of Veronese, who took a serious interest in architecture, although David Rosand suggests that the settings in his large paintings are better considered as stage scenery or temporary monumental decor for royal entries or other occasions (which was often very elaborate at this period) than compared in detail to actual architecture. Nativity scenes are very often given such settings, which apart from showing off the artist's skill acted as a reminder of the medieval legend, reported in the popular compilation of the Golden Legend, that on the night of Christ's birth the Basilica of Maxentius in Rome, supposed to house a statue of Romulus, had partly tumbled to the ground, leaving the impressive ruins that survive today.
Another meaning for the ruined temple went back to 15th-century Early Netherlandish painting, when the usual simple shed of the Nativity stable, little changed from Late Antiquity, had developed into an elaborate ruined temple, initially Romanesque in style, which represented the dilapidated state of the Old Covenant of the Jewish law. In Italian works the architecture of such temples became classical, reflecting the growing interest in the ancient world, and the ruins that remained in many areas.
🙏🏽
This image is in the public domain.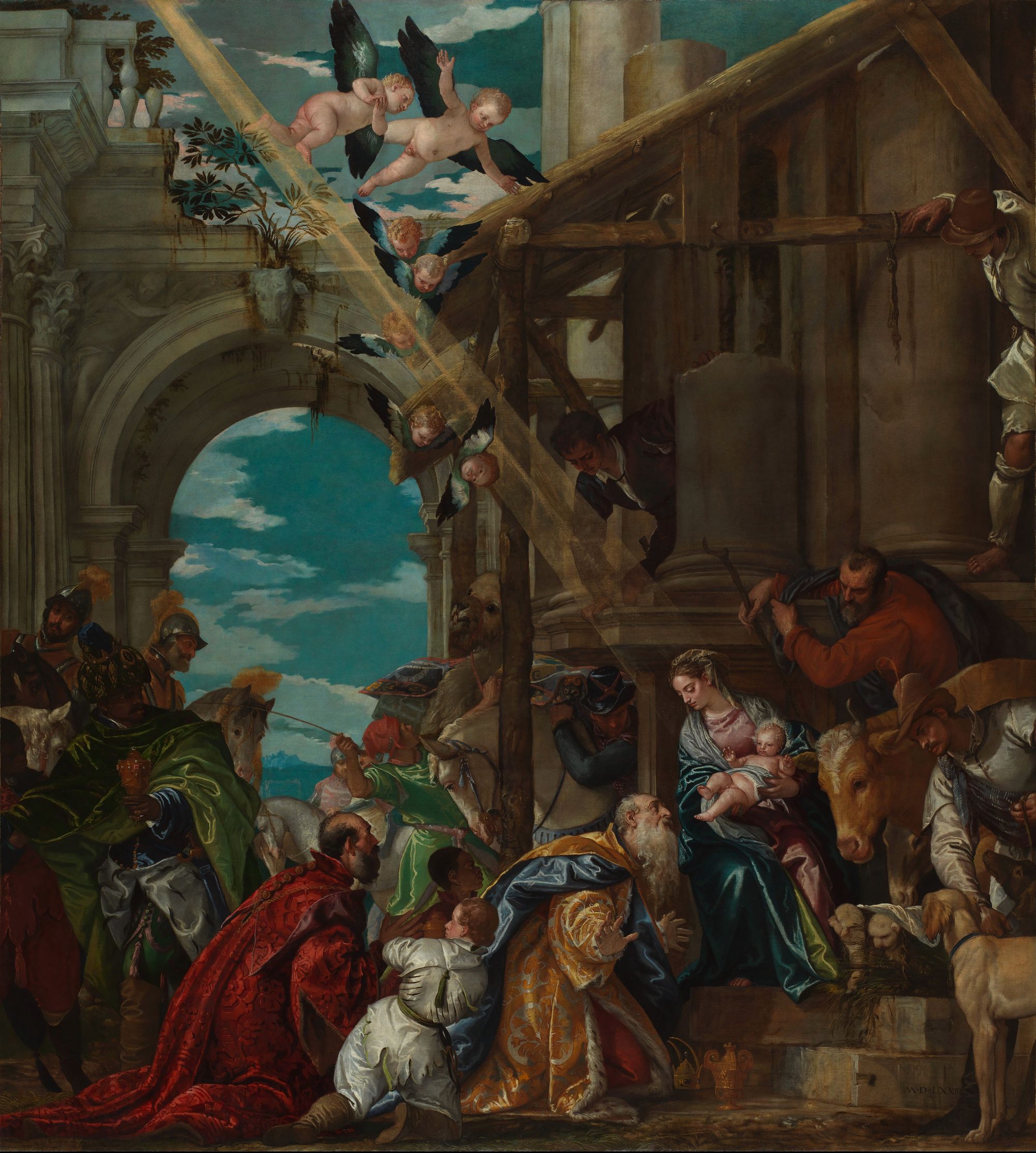 Please Subscribe or Donate to Help Keep This Site Free!