Details:
Saint Anthony Preaching to the Fish (Italian: Predica di sant'Antonio ai pesci; literally, Sermon of Saint Anthony to the Fishes) is a 1580–1585 oil on canvas painting of Anthony of Padua by Paolo Veronese, now in the Galleria Borghese in Rome. Its original location is unknown, though its medium dimensions of 104 centimetres (41 in) by 150 centimetres (59 in) mean it may have been painted for the side wall of a chapel or as part of a cycle of paintings for a small school (scuola) somewhere in Veneto. It entered the collection of Cardinal Scipione Borghese as a 1607 gift from Francesco Barbaro (patriarch of Aquileia).
Compositionally, the painting is oriented horizontally. From left to right it is split into two halves. The left half contains mostly dark blue-green sea and the fish within it, with boats and a mountainous shoreline visible in the distance at extreme center-left. The sea is calm. The painting's right half shows the Rimini coastline upon which Saint Anthony and a crowd of bystanders are gathered, with the city and spires of Rimini visible in the distance at extreme center-right. From top to bottom, the painting may be considered split into three parts. The top third is mostly blue sky with white clouds, though the figure of Saint Anthony also extends into this area. The bottom two-thirds depict the sea, shoreline, and crowd of bystanders.
Veronese places Saint Anthony atop a rock, raising him above the bystanders and focusing attention on his figure. The rock is almost triangular in shape, jutting out into space as if it were the prow of a ship, thereby implying Anthony is a helmsman guiding the church or serving as a beacon of faith. Anthony, dressed in light gray-blue robes and holding a bunch of white lilies, points down to the fish but is turned toward and looks at the human listeners with a somewhat serious or even castigating expression. Veronese painted Anthony taller than he should be relative to the bystanders—a perspectival anachronism—in order to increase the saint's monumental bearing. He is further accentuated by his asymmetric positioning relative to the overall canvas. Anthony's orientation toward the listeners appears to be inspired by that of Jesus in Tintoretto's circa 1579–1581 Multiplication of Bread and Fishes at the Scuola Grande di San Rocco in Venice.
🙏🏽
This image is in the public domain.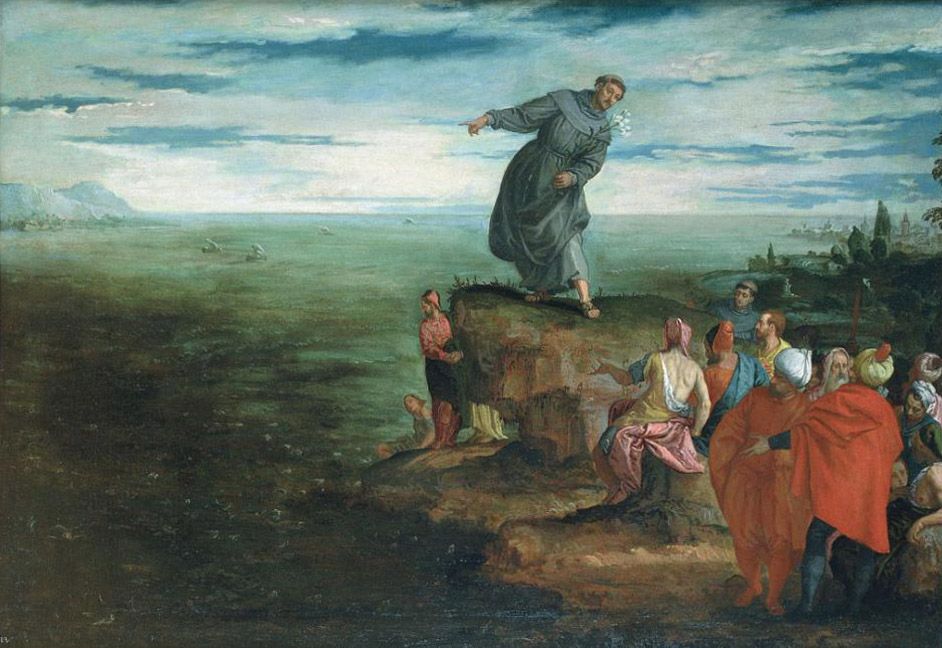 Please Subscribe or Donate to Help Keep This Site Free!