I love comic books and graphic novels! I made a whole page about my favorite Bible comic books. However, one of the things I noticed about comics, is that there aren't many Catholic comics out there nowadays. There are a few, and I commend the people who are making them. Nonetheless, I've always wanted more Catholic comic content.
So, instead of moping and being sad, I put my public domain research skills to good use. I found a wonderful website full of public domain comics called comicbookplus.com. It is an awesome site! You should check it out if you love Golden Age comics.
Besides that point, I found tons of public domain Catholic comics over on that website, and decided to reprint some of them. My first foray into the reprinting journey was a few stories about the Virgin Mary called Behold the Handmaid. It's available now on Amazon!
Behold the Handmaid is a wonderful comic story that covers the entire life of Our Blessed Mother (from conception until assumption). The next two stories included are very short comics about people who love the Virgin Mary. I have included those shorter stories below in PDF format (although, the quality of the ebook and print book is much higher than what I can upload here). Lastly, I included about ten comic covers that featured the Virgin Mary. Overall, I think the book came together swimmingly.
The Book Publishing Process
It took me quite a long time to edit this book. I didn't simply download the files and upload them into my publishing software. Let me walk you through the entire process.
Get a comicbookplus account.
Which can take a few days for approval
Find the files I was looking for.
Through extensive keyword searches, and by flipping through dozens of comics.
Download the files in CBZ format.
Which seems to be the only format comicbookplus offers.
Convert the CBZ files to PDF.
This is not as easy as it seems. I use Calibre e-book manager. It works great, but took a little tweaking to get the best quality conversion.
Upload the PDF into Affinity Publisher.
My choice as a book publishing program. I used Adobe InDesign in the past, but Adobe's monthly subscription fees were too high. So I switched to Affinity, which is only $55 (at this current date).
Edit the files to fix errors.
Some of the comic scans were crooked, or blurry, and discolored. I had to edit almost all the pages to make them presentable. Furthermore, I had to create and finesse the layout of the entire book. Tough but rewarding work.
Create covers and book files.
Next I had to create a hardcover and softcover for the book and I had to make sure that my book met all the specifications for Kindle publishing. Sometimes it is tricky following all their margin, bleed, and measurement rules. Thankfully, they don't charge authors anything to publish and host the books on Amazon.
Create a Kindle version.
After finishing the softcover and hardcover files and uploading them to Kindle Direct Publishing, I decided to also create a Kindle e-book version. I used Kindle Create, which is great for making Kindle specific books (especially books that have guided comic view, like this book). If you have a converter (like Calibre) you can also use those ebook files for sites like Google Books and Apple Books.
Upload all the books.
One of the last steps is to upload all the files to Kindle Direct Publishing. This involves filling in book details, picking categories, selecting keywords, uploading the files, and picking a price. Furthermore, Kindle will check the book to make sure it's up to their standards. The approval process can take 48–72 hours, but is usually a simple process.
Purchase proofs and double-check the book.
After the books are published and approved, I usually order proof copies to make sure everything looks good in person. With this book, I had to order a softcover and hardcover version because the print techniques is different for each. With the proofs, you want to make sure you didn't miss any typos or make other mistakes. You also want to make sure the physical book looks the way you imagined. For example; I used to print books with Amazon's matte cover feature, but I noticed on a proof copy that those covers collect fingerprints and smudges. So I switched to the glossy cover before I published the final version of the book. Now, I always use glossy covers. I wouldn't have know that if I didn't buy a proof.
Make the book live and purchase ads.
Once I'm happy with the book design, the last thing I do is go back to Kindle Direct Publishing and make the books available for purchase. Then, I use Publisher Rocket to find good AMS keywords. I then use those AMS keywords to create an ad for my book with Amazon Ads. Generally, I put my minimum bid at 5 or 10 cents and see which keywords work best. After a few weeks, I'll take the best keywords and up the bid a few more cents until I find a sweet spot between cost and book sales.
---
Hopefully this gives you some insight into the book publishing process. If you were interested in publishing your own book, this article could be used as a guide. Also, you can use the contact form to message me any questions you might have (if I'm available, I will respond).
Long story short, Behold the Handmaid was a labor of love. I hope you will love it as much as I love making it! Again, you can easily go and purchase Behold the Handmaid on Amazon. Links below!
I hope you enjoy Behold the Handmaid, and until we meet again, stay holy + my friend,
Shalone Cason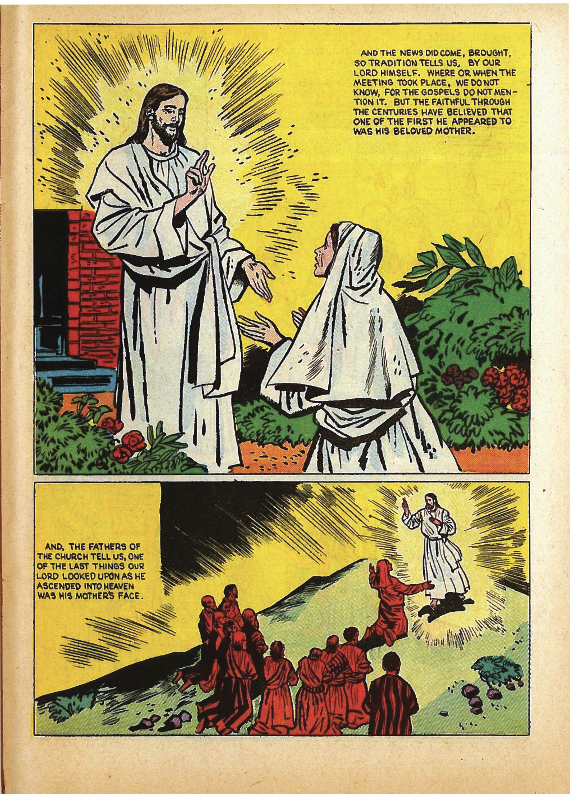 ---
This site is a place where public domain paintings, stock photos, and coloring pages are stored, categorized, and made searchable. Anyone can come here and use the category page in the menu or the search bar to find the perfect Catholic image for their project. Did I mention that all the images are free and creative commons? That means that you won't have to worry about copyright issues or stock photo fees.