The Sdcason gallery is all about experiencing the Christian faith through art. There are many ways to achieve this goal. One way is through hanging beautiful prints in your home, or sharing the images on social media. Another way is to enjoy photo books, such as my books Portraits of Jesus and the Photo Rosary series.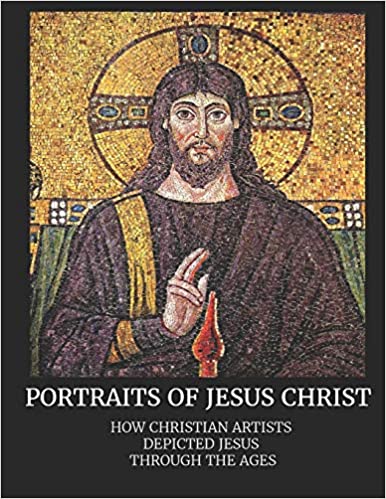 Another way to enjoy the faith through art is by reading Bible comic books. Reading the Bible is one of the most important ways to experience the Word of God, with prayer and sacraments coming in close second. However, some people, like myself, learn and experience things better when they are in a visual format. So Bible comics can really help visually oriented people experience the Faith in a whole new way. I have been enjoying Bible comics for some time and here are my favorite Bible comics. This list is in no particular order.
Full disclosure, if you order one or more of these books by clicking on my link, I'll get a few cents from Amazon.
Enjoy and God bless +
Shalone Cason
---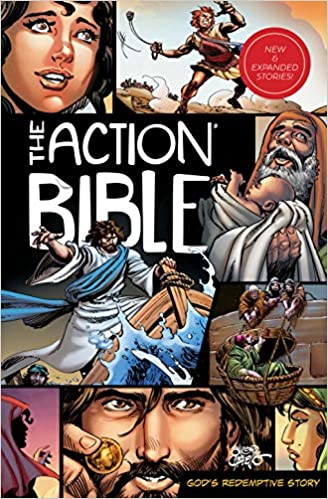 The Action Bible is one of the most popular Bible comics. It is rated 5-stars with almost 3,000 reviews and has been in the top ten list of Bibles on Amazon. The art is excellent, however they do take freedoms with the verses from the Bible. The overall story remains the same, which is important. This newer version presents more than 230 fast-paced narratives in chronological order, making it easy to follow the Bible's historical flow and building up to the thrilling climax of God's redemptive story.
So check it out. It's available for Kindle and Hardcover for a very low price ($10-$20). Great for adults and teens. Probably too wordy for kids though. Unfortunately, Action Bible has Children's book Guided View, which is okay but isn't as good as Comixology Guided View. Therefore, it is a little more difficult to read on smaller devices.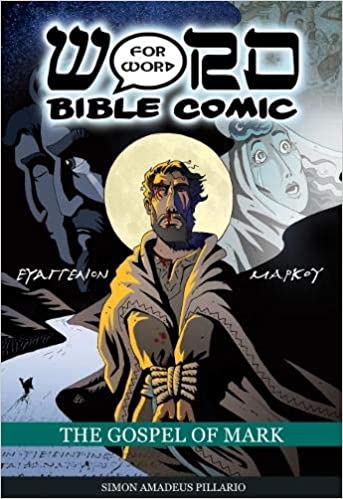 If you are concerned about the words of the Bible being changed slightly for artistic purposes, you should check out the Word for Word Bible comic series. These comics literally use every word, without changing anything. I am a fan of these comics because the art is unique and the colors are gorgeous. Also, I am one of those sticklers that doesn't like the words of the Bible being slightly changed. Furthermore, they dedicate more panels to action and battles (which are implied in scripture), while books like Action Bible and Kingstone do not.
I can appreciate something like the Action Bible or the Kingstone Bible, but I have to say, I love actually reading the exact words of the Bible while enjoying a comic at the same time. And I love the way the artist draws action and battle scenes. Some panels can be quite bloody, so maybe this one isn't for kids.
All in all, Grab this series of comics if you want beautiful art and a word for word Bible experience. I forgot to mention that these Bible comics are free to read with Kindle Unlimited! I'm reading these on my iPad with Kindle Unlimited right now.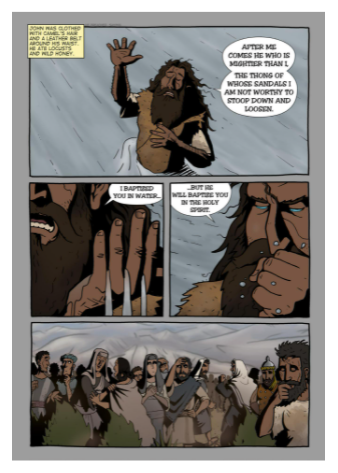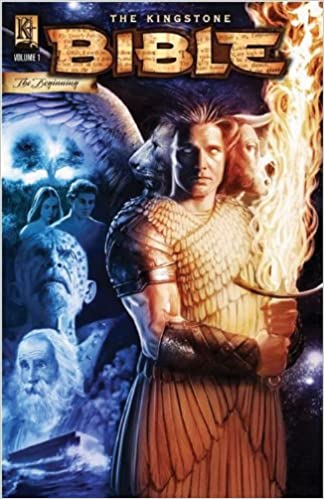 Kingstone makes tons of Bible comic book series. There is this comic Bible, and also comics made for individual books such as King David and Jonah. What's good about Kingstone? The art is excellent for starters. Furthermore, the freedoms they take with the Bible text are very reasonable.
They also shy away from violence. Although there are many violent passages in the Old Testament, Kingstone attempts to avoid glorifying it and they show very little blood and death. So, for teenagers and kids that's a good thing.
Overall, I enjoy the Kingstone Bible more than the Action Bible, because the art is updated and they have included Comixology Guided View for their Kindle versions (Action Bible does not have Guided View, which makes it hard to read on smaller devices.)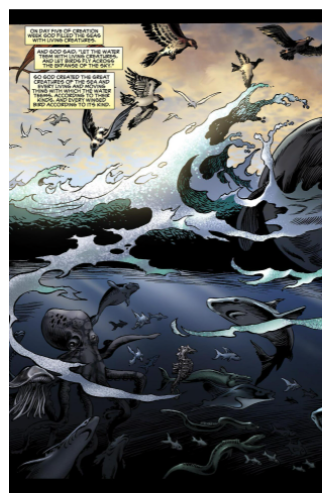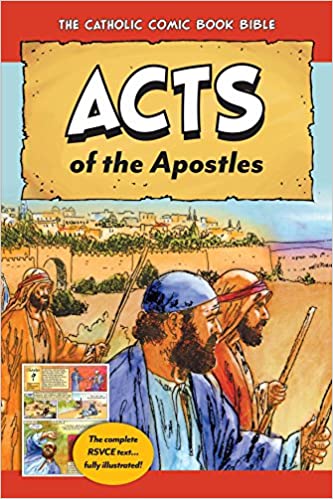 I'm Catholic, so I had to include one of the Catholic Bible comic books, right? Unfortunately, as far as I know, this series by Tan Books is the only Catholic comic book out there. What's good about it? If you're Catholic, you can't go wrong here. The text is word for word from the Revised Standard Version, Catholic Edition. Each verse has a comic panel and the chapter and verse numbers are included for easy reference.
However, I have to admit, there are downsides. The art is this series is not as good as Kingstone or Word for Word, and there is no Kindle version (which is sad, because I mostly read on Kindle). Otherwise, Catholics can't go wrong with this Bible comic series.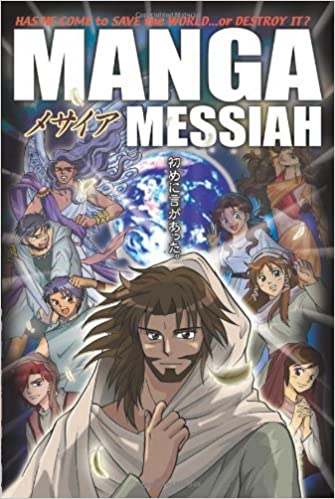 Wait...I said Bible comics, not manga! No worries, manga is basically a Japanese comic. Manga, unlike Western comics, have their own art styles, character designs, and traditions. Most manga is black and white, but this Bible manga is in full-color. Not only that, but it has Kindle and Paperback versions. I love the art and colors in this series. I also love that it is very affordable (about $12 at time of publishing this post).
Unfortunately, it doesn't have Comixology Guided View for Kindle, so it's a little difficult to read on small devices. Also, similar to Action Bible and Kingstone, they take a few freedoms with the Bible text to make it more readable.
Overall, this is a good Bible series and if you love manga, you will enjoy the Manga Messiah and the other Bible manga in this series.
---
Overall, there are many options for Bible comics if you're a visual learner or if you enjoy reading with pictures more than simply reading text on a page. I love reading with pictures and I'm really happy that there are many options for comic Bibles. I am currently reading multiple comic Bibles and I plan on ordering some in hardcover and paperback for my family library. If you or your children learn visually, you should do the same.
By the way, did you know that this site is a place where public domain paintings, stock photos, and coloring pages are stored, categorized, and made searchable? It is! In fact, anyone can come here and use the category page in the menu or the search bar to find the perfect Catholic image for their project. Did I mention that all the images are free and creative commons? That means that you won't have to worry about copyright issues or stock photo fees.
If you'd like to keep this site free, all you have to do is give a one-time donation or subscribe monthly.