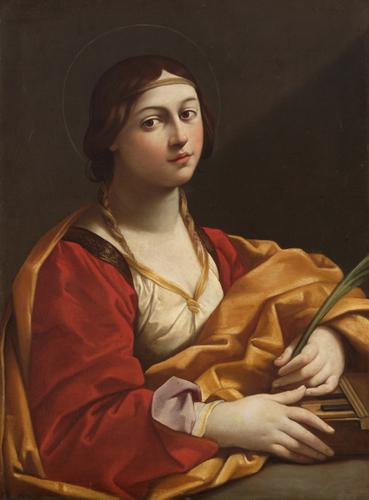 Image Details
'St. Cecilia' was created in c.1610 by Guido Reni in Baroque style. Saint Cecilia (Latin: Sancta Caecilia) was a Roman martyr venerated in Catholic, Orthodox, Anglican, and some Lutheran churches, such as the Church of Sweden. She became the patroness of music and musicians, it being written that, as the musicians played at her wedding, Cecilia "sang in her heart to the Lord". Musical compositions are dedicated to her, and her feast, on 22 November, is the occasion of concerts and musical festivals.
St Cecilia is one of several virgin martyrs commemorated by name in the Canon of the Mass in the Latin Church. The church of Santa Cecilia in Trastevere, founded in the 3rd century by Pope Urban I, is believed to be on the site of the house where she lived and died.
Guido Reni (Italian pronunciation: [ˌɡwiːdo ˈrɛːni]; 4 November 1575 – 18 August 1642) was an Italian painter of the Baroque period, although his works showed a classical manner, similar to Simon Vouet, Nicolas Poussin, and Philippe de Champaigne. He painted primarily religious works, but also mythological and allegorical subjects. Active in Rome, Naples, and his native Bologna, he became the dominant figure in the Bolognese School that emerged under the influence of the Carracci.
Free Download Below
This image is in the public domain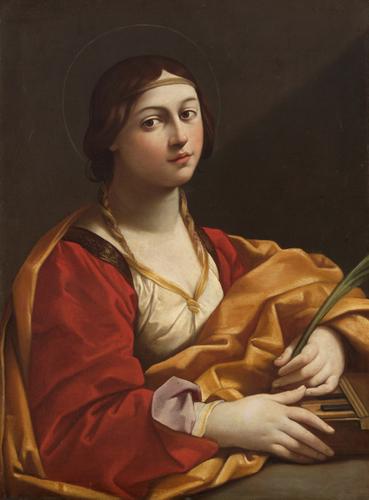 Please Subscribe or Donate to Help Keep This Site Free!