Details
L'église de la Madeleine (Madeleine Church; more formally, L'église Sainte-Marie-Madeleine; less formally, just La Madeleine) is a Catholic church occupying a commanding position in the 8th arrondissement of Paris. The Madeleine Church was designed in its present form as a temple to the glory of Napoleon's army, and later named for Jesus' companion, Mary Magdalene. To its south lies the Place de la Concorde, to the east is the Place Vendôme, and to the west Saint-Augustin, Paris.
This image shows the rear of the church where, above the high altar, stands a statue by Carlo Marochetti depicting St Mary Magdalene being lifted up by angels which evokes the tradition concerning ecstasy which she entered in her daily prayer while in seclusion.
The Madeleine is built in the Neo-Classical style and was inspired by the much smaller Maison Carrée in Nîmes, one of the best-preserved of all Roman temples. It is one of the earliest large neo-classical buildings to imitate the whole external form of a Roman temple, rather than just the portico front. Its fifty-two Corinthian columns, each 20 metres (66 feet) high, are carried around the entire building. The pediment sculpture of the Last Judgement is by Philippe Joseph Henri Lemaire, and the church's bronze doors bear reliefs representing the Ten Commandments. It measures 108 by 43 m (354 by 141 ft).
Inside, the church has a single nave with three domes over wide arched bays, lavishly gilded in a decor inspired as much by Roman baths as by Renaissance artists. The half-dome above the altar is frescoed by Jules-Claude Ziegler, entitled The History of Christianity, showing the key figures in the Christian religion with – a sign of its Second Empire date – Napoleon occupying centre stage.
🙏🏽
Please give proper attribution.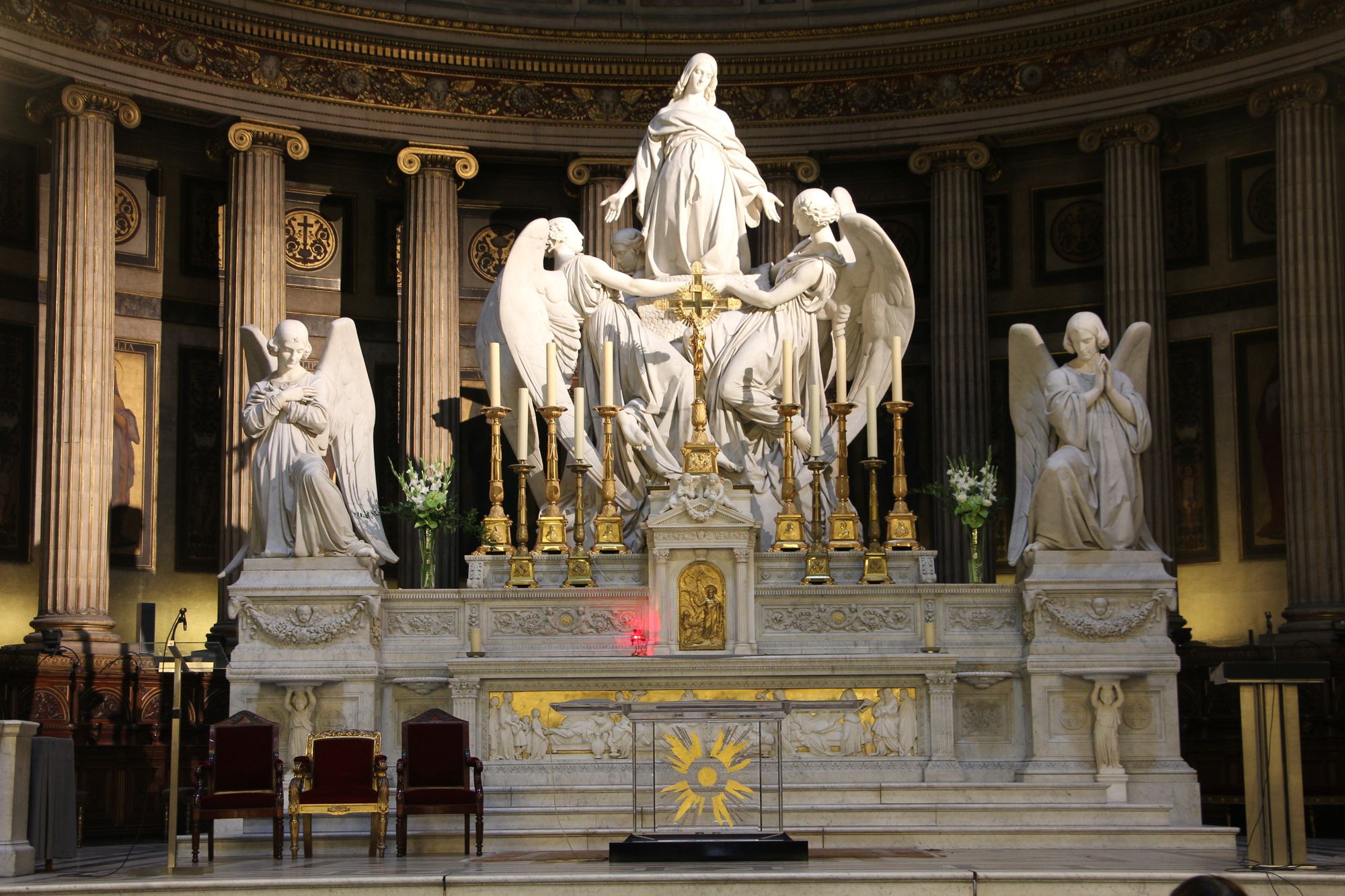 Please Subscribe or Donate to Help Keep This Site Free!