Fitted with two rings for suspension, a hook, and a hasp, this small icon can be closed and hung round one's neck as a token of piety and divine protection. Open, it can be used as a prayer image. Christ and two bishop saints, most probably Nicholas of Myra and Blaise of Sebaste, bless the viewer with their right hands. The Savior holds an open book with the words "Come to me, all you that are weary" (Matthew 12:28).
The triptych icon is a fine example of Russian religious art from the 17th century. It features a central panel with an image of Jesus Christ, identified by the halo with a cross inscribed within it and the traditional blessing gesture of His right hand, along with an open book in His left hand which likely contains a passage from the Gospels. This representation of Christ Pantocrator is a common and revered image in Orthodox Christian iconography, symbolizing Christ as the Ruler and Judge of the world.
The side panels depict Saint Nicholas on the left and Saint Blaise on the right, each recognized by their distinctive attributes and saintly vestments. Saint Nicholas, known in the East as Saint Nicholas of Myra, is often shown in icons with a Gospel book and giving a blessing gesture, which signifies his role as a bishop and a teacher of the faith. Saint Blaise, known for the healing of both humans and animals, is commonly depicted with the instruments of his martyrdom or with symbols of his healing miracles.
The entire triptych is adorned with a detailed, filigreed metalwork that includes enamel, which enhances the richness and devotional appeal of the icon. The use of enamel work in religious icons is typical of Russian craftsmanship, which often includes intricate decorations and precious materials to honor the sanctity of the depicted figures and to create a sense of reverence and beauty for the beholder.
Icons such as this triptych are designed for personal devotion and contemplation, and their portable nature means they could be used in a variety of settings, from private chapels to the homes of the faithful. In Orthodox Christianity, icons are not merely decorative but are considered to be a window into the divine, facilitating a spiritual connection between the believer and the holy personages represented.
🙏🏽
This image is in the public domain.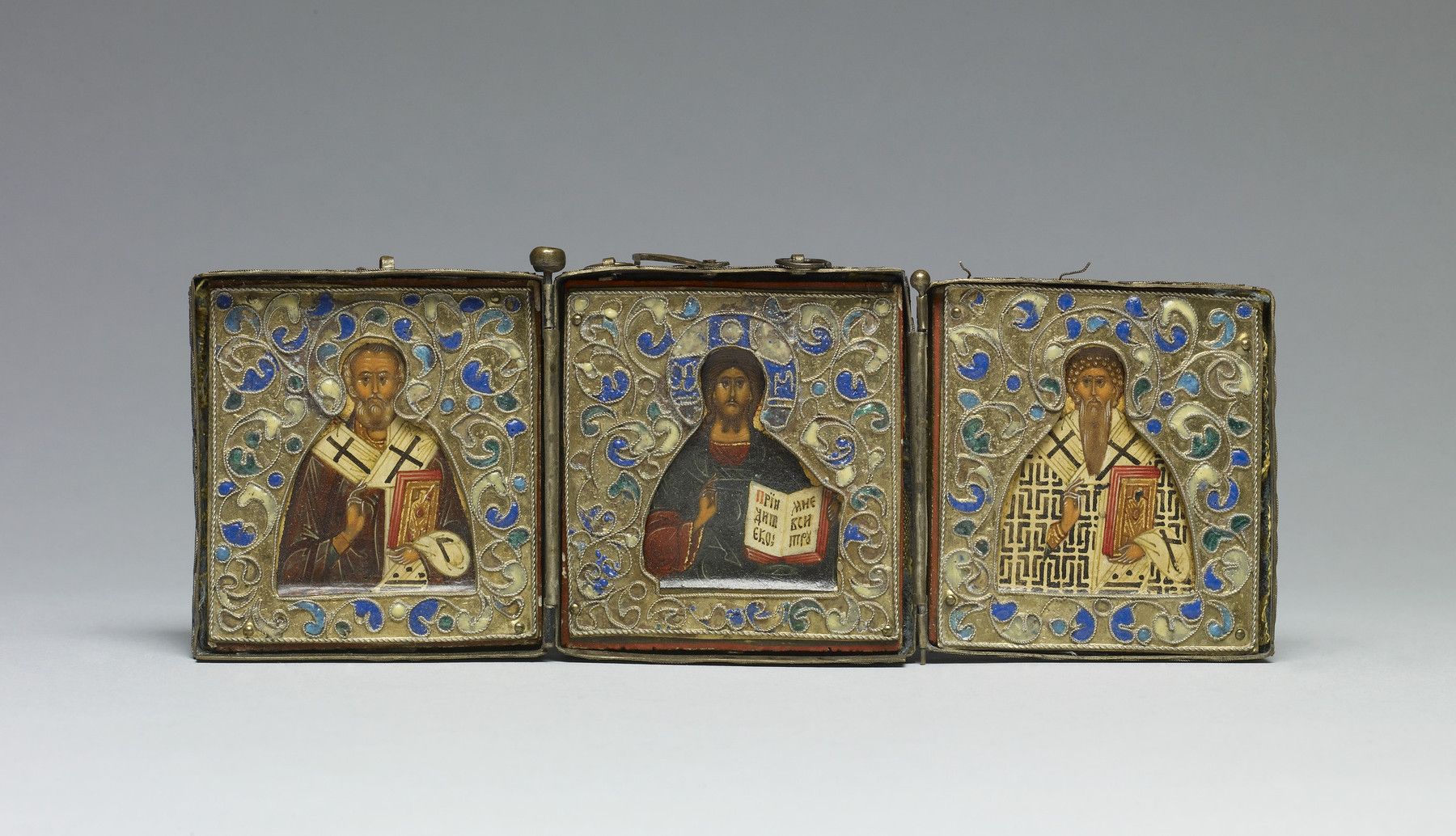 Please Subscribe or Donate to Help Keep This Site Free!