Please Subscribe or Donate to Help Keep This Site Free!
Saint Barbara known in the Eastern Orthodox Church as the Great Martyr Barbara, was an early Christian Lebanese and Greek saint and martyr. Accounts place her in the 3rd century in Heliopolis Phoenicia, present-day Baalbek, Lebanon. Veneration of her was common, especially in the East, from the 9th century. She is holding a chalice. Source
Antony of Padua (Italian: Antonio di Padova) or Anthony of Lisbon (born Fernando Martins de Bulhões; 15 August 1195 – 13 June 1231) was a Portuguese Catholic priest and friar of the Franciscan Order. Noted by his contemporaries for his powerful preaching, expert knowledge of scripture, and undying love and devotion to the poor and the sick, he was one of the most quickly canonized saints in church history. He is holding a book and lily. Source
Justina of Padua (Italian: Santa Giustina di Padova) is a Christian saint and a patroness of Padua. Her feast day is October 7. She is often confused with Justina of Antioch. She was devoted to religion from her earliest years and took the vow of perpetual virginity. When she was brought before Maximian the prefect, she remained firm against all attacks. The prefect caused her to be slain with the sword. She is holding a palm frond. Source
Saint Nicolás Factor (29 June 1520 – 23 December 1583) was a Spanish Roman Catholic priest and a professed member from the Order of Friars Minor as well as a painter of the Renaissance period. Factor served as an apt preacher across his region - despite wanting to be sent to the foreign missions - and was noted for his practices of self-mortification before he gave sermons. Pope Pius VI beatified Factor on 27 August 1786. He is holding the painting. Source
Free Downloads Below
Image by sdcason.com - CC BY-SA 4.0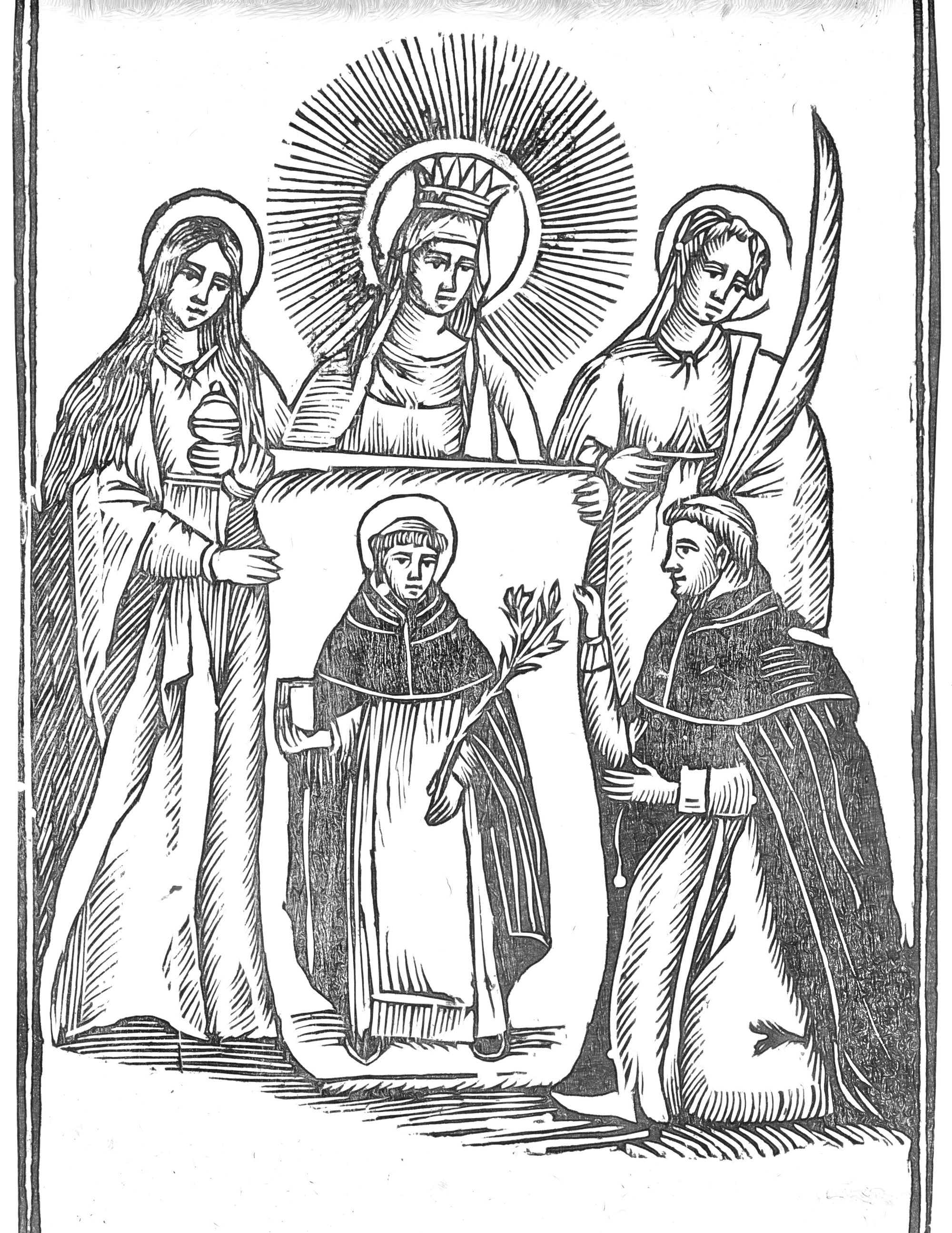 Please Subscribe or Donate to Help Keep This Site Free!