Please Subscribe or Donate to Help Keep This Site Free!
Tarcisius was a twelve-year-old acolyte during one of the fierce Roman persecutions of the third century, probably during that of Valerian. Each day, from a secret meeting place in the catacombs where Christians gathered for Mass, a deacon would be sent to the prisons to carry the Eucharist to those Christians condemned to die. At one point, there was no deacon to send and so St. Tarcisius, an acolyte, was sent carrying the "Holy Mysteries" to those in prison.
On the way, he was stopped by boys his own age who were not Christians but knew him as a playmate and lover of games. He was asked to join their games, but this time he refused and the crowd of boys noticed that he was carrying something. Somehow, he was also recognized as a Christian, and the small gang of boys, anxious to view the Christian "Mysteries," became a mob and turned upon Tarcisius with fury. He went down under the blows, and it is believed that a fellow Christian drove off the mob and rescued the young acolyte.
Free Downloads Below
This image is in the public domain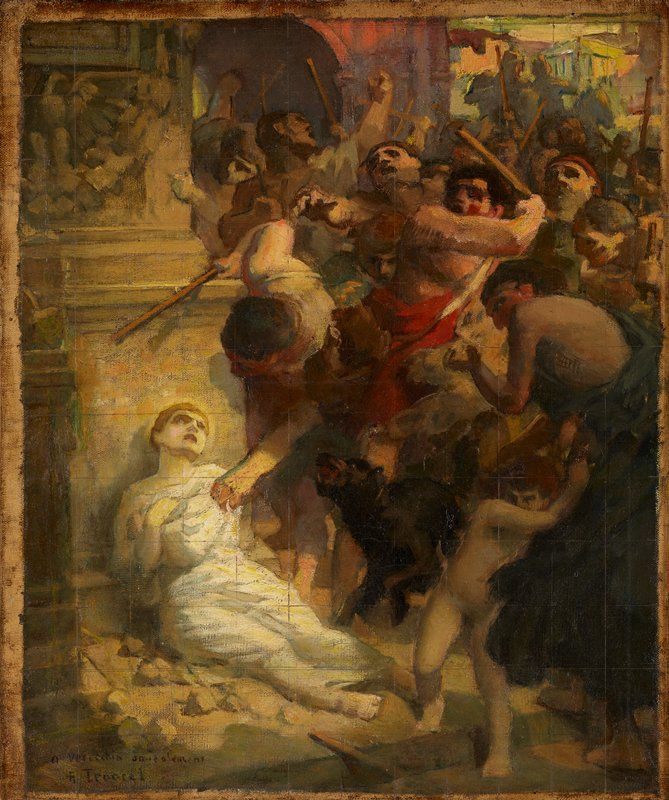 Please Subscribe or Donate to Help Keep This Site Free!