Image Details
Pope Francis (Latin: Franciscus; Italian: Francesco; Spanish: Francisco; born Jorge Mario Bergoglio, 17 December 1936) is the head of the Catholic Church and sovereign of the Vatican City State since 2013. Francis is the first pope to be a member of the Society of Jesus, the first from the Americas, the first from the Southern Hemisphere, and the first pope from outside Europe since Gregory III, a Syrian who reigned in the 8th century.
Bergoglio was elected pope on 13 March 2013, the second day of the 2013 papal conclave, taking the papal name Francis. Francis was elected on the fifth ballot of the conclave. The Habemus papam announcement was delivered by the cardinal protodeacon, Jean-Louis Tauran. Cardinal Christoph Schönborn later said that Bergoglio was elected following two supernatural signs, one in the conclave and hence confidential, and a Latin-American couple of friends of Schönborn who whispered Bergoglio's name in Schönborn's ear; Schönborn commented "if these people say Bergoglio, that's an indication of the Holy Spirit".
Instead of accepting his cardinals' congratulations while seated on the papal throne, Francis received them standing, reportedly an immediate sign of a changing approach to formalities at the Vatican. During his first appearance as pontiff on the balcony of Saint Peter's Basilica, he wore a white cassock, not the red, ermine-trimmed mozzetta used by previous popes. He also wore the same iron pectoral cross that he had worn as archbishop of Buenos Aires, rather than the gold one worn by his predecessors.
After being elected and choosing his name, his first act was bestowing the Urbi et Orbi blessing on thousands of pilgrims gathered in St. Peter's Square. Before blessing the crowd, he asked those in St. Peter's Square to pray for his predecessor, "the bishop emeritus of Rome" Pope Benedict XVI, and for himself as the new "bishop of Rome".
Francis held his papal inauguration on 19 March 2013 in St. Peter's Square in the Vatican. He celebrated Mass in the presence of various political and religious leaders from around the world. In his homily Francis focused on the Solemnity of Saint Joseph, the liturgical day on which the Mass was celebrated.
Free Downloads Below
Please Give Proper Attribution:
Fczarnowski, Francis Inauguration fc06, CC BY-SA 3.0
Plain Text:
Fczarnowski (https://commons.wikimedia.org/wiki/File:Francis_Inauguration_fc06.jpg), "Francis Inauguration fc06", https://creativecommons.org/licenses/by-sa/3.0/legalcode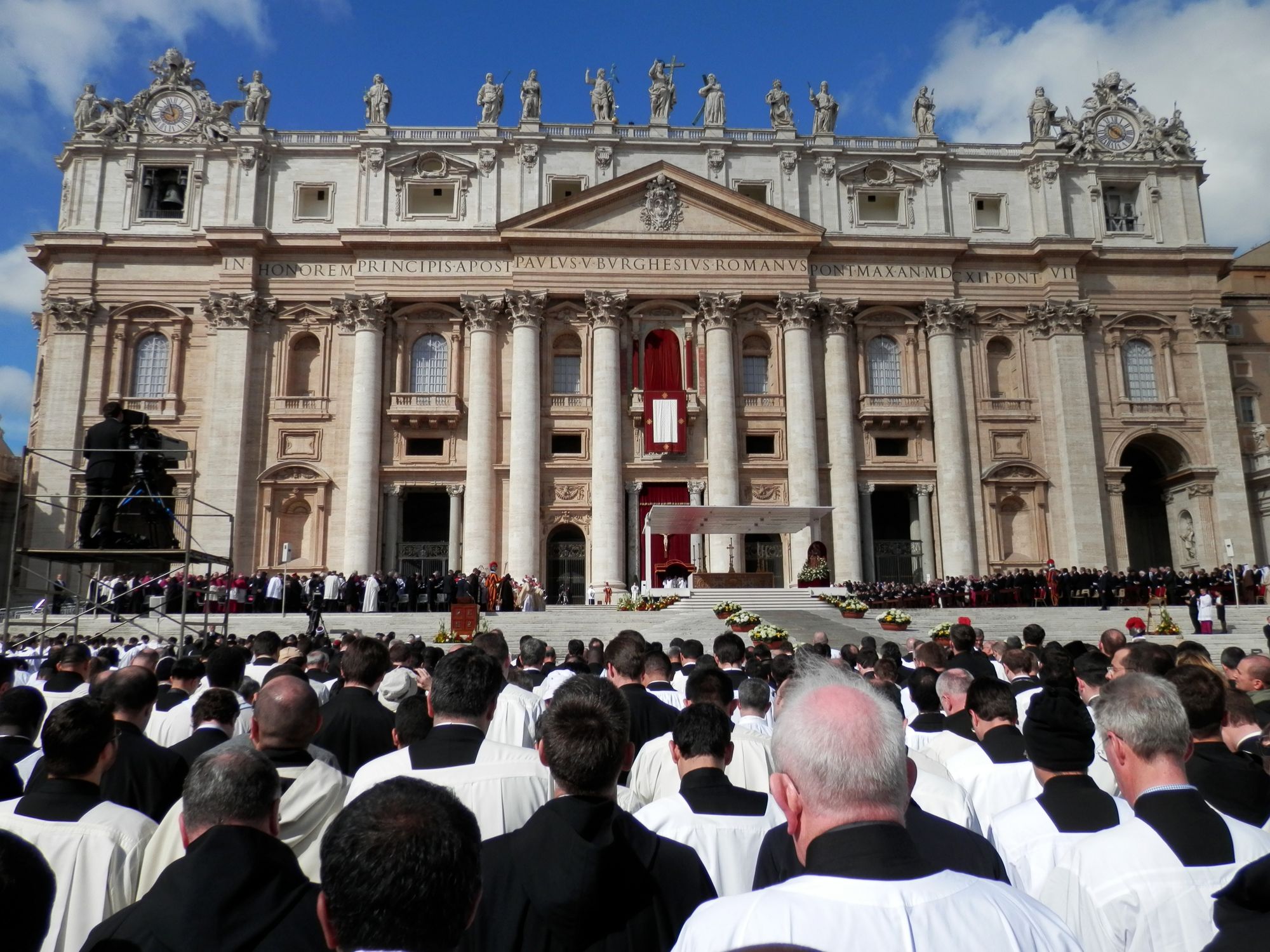 Please Subscribe or Donate to Help Keep This Site Free!