Details:
This large oil painting was thought to be an early, rough sketch for the ceiling of the Salone de Biblioteca Antica in the Palazzo degli Studi in Naples. The attribution to Bardellino was based on the sketch's similarity to another sketch by the artist, sold in New York in 1972, which is more closely related to the ceiling painting. It is assumed that the Cleveland work preceded the more finished oil sketch and that both models were created in preparation for the Palazzo degli Studi's Apotheosis, completed in 1781. The Cleveland sketch was almost completely altered in the final composition. The cartouche, or grouping of regal paraphernalia, which is the main feature of the Cleveland sketch, was omitted in the final ceiling painting. This medallion conveys the idea that the reign of the royal couple is filled with fortune. Bardellino used atmospheric colors and his delicate touch in this heavenly vision of angels and virtues, and the angels hold a chain bearing the orders of the royal family. From left to right are the Order of San Januarius, the Order of the Holy Spirit of France, the Order of the Golden Fleece (represented by the lamb), and the Order of St. George of Constantine. The large oval shape, empty in the Cleveland sketch, also appears in the final version, where the oval is smaller and frames a portrait of Ferdinand and Maria. Rather than representing an apotheosis of the bodies of the royal couple, Bardellino shows their ascent in the raising of their portraits to heaven. While the Palazzo degli Studi painting differs greatly from the Cleveland version, the oval space in the Cleveland sketch suggests Bardellino's plans for the inclusion of the royal portrait in the final ceiling painting.
🙏🏽
This image is in the public domain.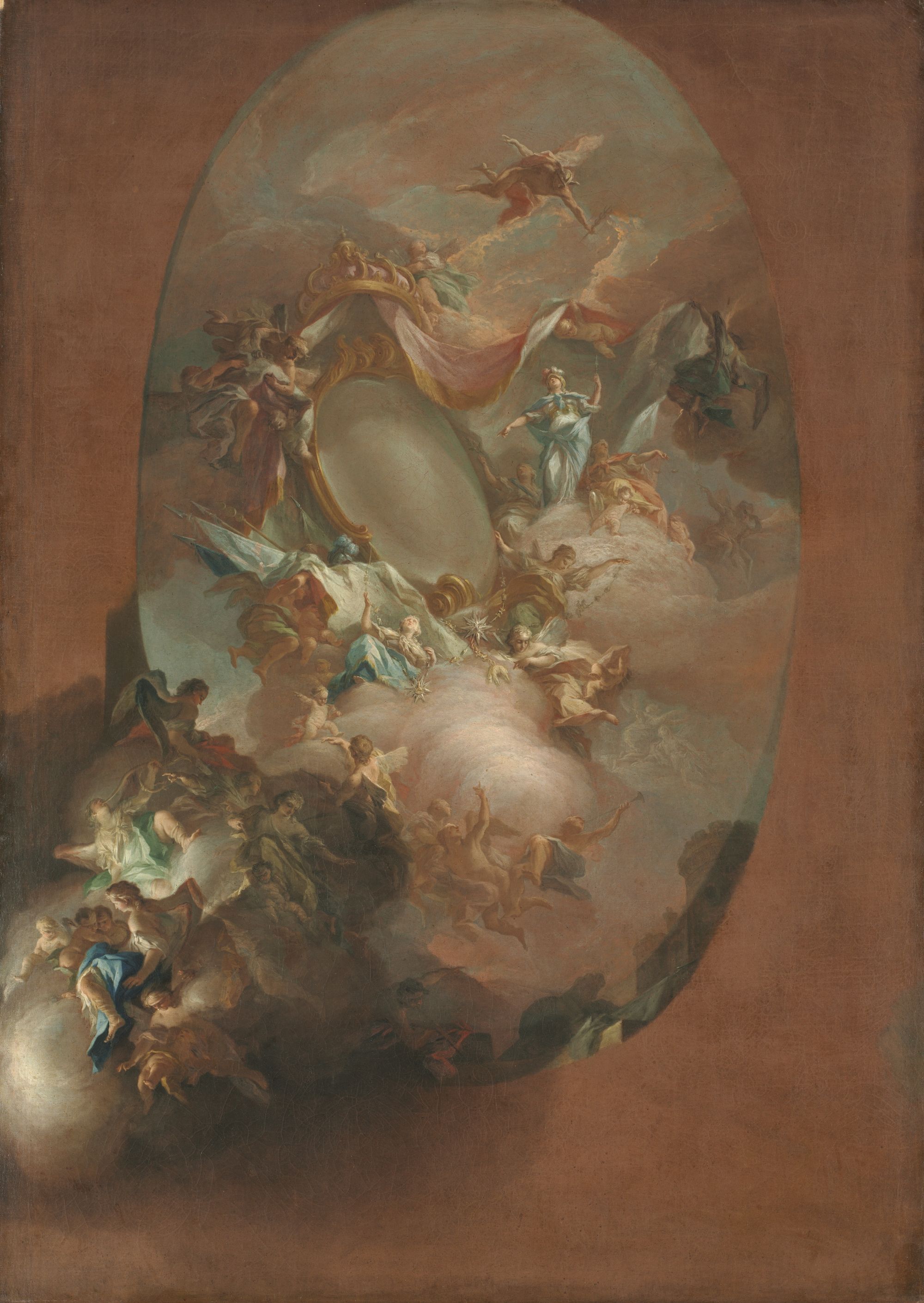 Please Subscribe or Donate to Help Keep This Site Free!