One of the most highly venerated virgin martyrs of Christian antiquity, Agatha (231-251 AD) was put to death during the Decian persecution (250–253) in Catania, Sicily, for her determined profession of faith. Her feast day is February 5th.
According to the 13th-century Golden Legend (III.15) by Jacobus de Voragine, fifteen-year-old Agatha, from a rich and noble family, made a vow of virginity and rejected the amorous advances of the Roman prefect Quintianus, who thought he could force her to turn away from her vow and marry him. His persistent proposals were consistently spurned by Agatha. This was during the persecutions of Decius, so Quintianus, knowing she was a Christian, reported her to the authorities. Quintianus himself was governor of the district.
He expected her to give in to his demands when she was faced with torture and possible death, but she simply reaffirmed her belief in God. To force her to change her mind, Quintianus imprisoned Agatha in a brothel. After some time, he sent for her again, argued, threatened, and finally had her imprisoned and tortured. She was stretched on a rack to be torn with iron hooks, burned with torches, and whipped. Amongst the tortures she underwent was the cutting off of her breasts with pincers.  Finally, Agatha was then sentenced to be burnt at the stake, but an earthquake saved her from that fate; instead, she was sent to prison where St. Peter the Apostle appeared to her and healed her wounds. Agatha died in prison, probably in the year 251.
Source: Wikipedia
---
Saint Apollonia  was one of a group of virgin martyrs who suffered in Alexandria during a local uprising against the Christians prior to the persecution of Decius. According to church tradition, her torture included having all of her teeth violently pulled out or shattered. For this reason, she is popularly regarded as the patroness of dentistry and those suffering from toothache or other dental problems. French court painter Jehan Fouquet painted the scene of St. Apollonia's torture in The Martyrdom of St. Apollonia. Her feast day is February 9th.
Source: Wikipedia
Free Downloads Below
Please Give Proper Attribution:
Wikimedia Commons : Hélène Rival, Église St Héand Vitraux Agathe Appoline, Sketched by Shalone Cason, CC BY-SA 4.0
Plain Text:
Wikimedia Commons : Hélène Rival (https://commons.wikimedia.org/wiki/File:Église_St_Héand_Vitraux_Agathe_Appoline.jpg), "Église St Héand Vitraux Agathe Appoline", Sketched by Shalone Cason, https://creativecommons.org/licenses/by-sa/4.0/legalcode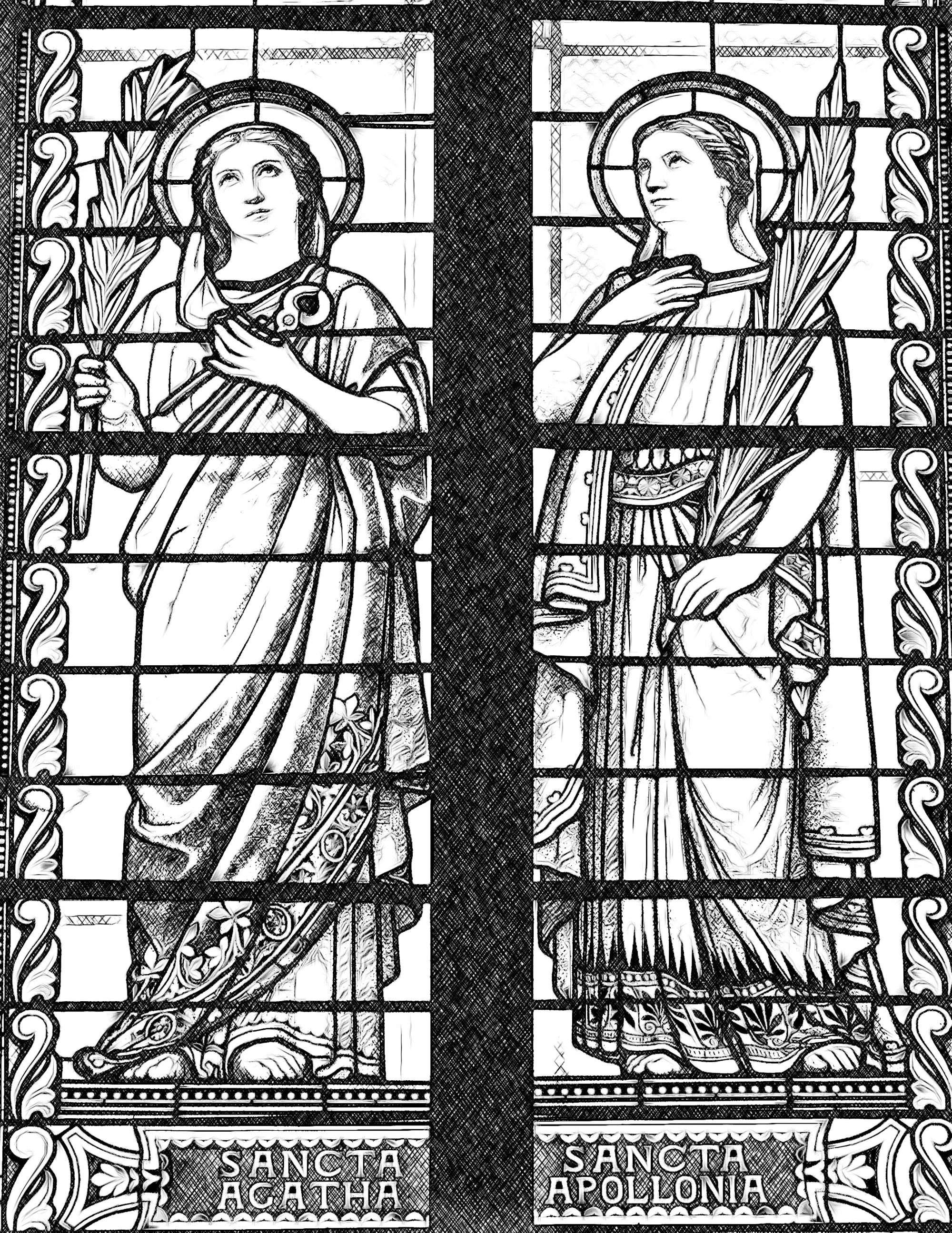 Please Subscribe or Donate to Help Keep This Site Free!